Blockchain Revolution Without the Blockchain?
Blockchain—often called "the technology behind Bitcoin"— has attracted a lot of attention, perhaps somewhat comparable to that devoted to the Internet at the time of the dot-com boom. Many are excited about this new technology, supposedly based on a public, permissionless, distributed ledger that cryptographically assures immutability without a need for a trusted third party and allows for smart contracts. Large and small companies want to get on board, since they expect this technology to lower their costs by making transactions quicker, safer, transparent and decentralized.
However, the technology behind the blockchain is for the most part not well understood. There is no consensus on what benefits it may really bring,1 or on how it may fail.
Optimism in the face of novelty and uncertainty of a new technology is not a new phenomenon, but it does affect the economy, for example, through optimistic valuations of blockchain-referencing startups. This optimism also appears in estimates quoted by the media that indicate large cost savings but don't offer much detail about how those savings would occur.
A more careful look into the technology reveals that most of the proposed benefits of so-called blockchain technologies do not actually come from blockchain. What gets bundled up as blockchain technologies—smart contracts, encryption and a distributed ledger—are separate concepts. The three may be implemented together, but they do not need to be. We analyze them separately and argue that most of the proposed benefits come from encryption and smart contracts. But encryption and smart contracts do not need blockchain.
So, while the wave of excitement may facilitate adoption of new technology solutions, the landscape after the so-called blockchain revolution may include very few actual blockchain applications. Instead, the changes could focus on encryption and smart contracts.
Confusion around what blockchain actually is
The market's excitement about blockchain technologies is growing and is perhaps best summarized in the increasingly popular slogan "blockchain revolution." It is estimated that the blockchain market size will grow from US$210 million in 2016 to over US$2 billion by 2021.2 Blockchain technologies are expected to change the way the financial industry, supply chains, government record-keeping and many other areas operate. The Financial Times3 describes the technology as follows:
Blockchain is an electronic ledger of transactions that are continuously maintained in blocks of records. What gets its developers, investors and fans so excited, however, is that ledgers are jointly held and run by all participants. It is meant to be cryptographically secured to prevent anyone being able to manipulate records, such as who voted for whom, or who owns a bank account.4
A technician inspects the backside of bitcoin mining at Bitfarms in Saint Hyacinthe, Quebec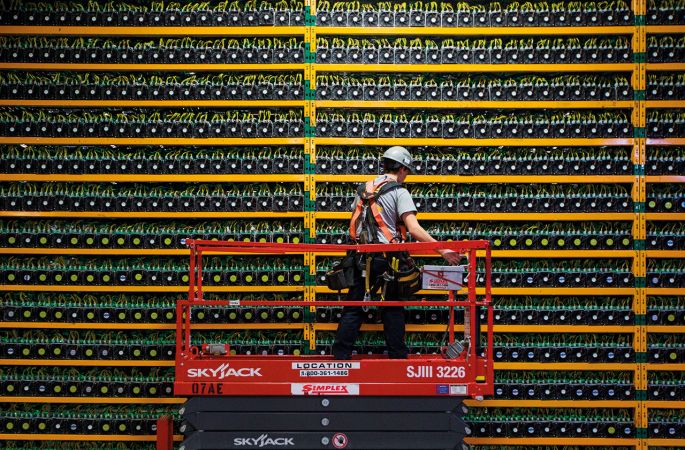 The revolution is supported by a few forces, the most significant of which is the expectation of substantial cost savings, as described in the following quotes from the Financial Times:
Blockchain is the electronic ledger originally built to underpin bitcoin markets. Promoters say it will lead to cheaper, more secure ways of settling all kinds of transactions.5
The technology—an electronic ledger with records stored in "blocks"—aims to automate the complex networks of trust and verification on which modern finance sits, potentially cutting tens of billions of dollars of costs from the financial sector.6
The main sources of savings are supposed to come from increased security, faster transactions and a shared ledger.7 Faster transactions on blockchain are often—but not exclusively—ascribed to smart contracts (i.e., automated execution of transactions). A shared ledger is supposed to contribute to cost savings because blockchain is assumed to operate without a trusted third party and therefore to eliminate intermediaries.
However, these assumptions about the benefits of blockchain seem to confuse at least three different concepts: (1) encryption, (2) smart contracts, and (3) distributed ledger, a type of a distributed database. The three may be applied together. But they are separate tools, and not all of them are necessary in a blockchain system.
So, what is "blockchain"?
While there is no one standard definition of blockchain, the most parsimonious and commonly used is a "distributed ledger of transactions."8 This is why the term "blockchain technologies" is often used interchangeably with "distributed ledger technologies." This parsimonious definition allows blockchains to have different attributes. Specifically, not every distributed ledger can be secure without a trusted third party9 or needs to involve smart contracts. More importantly, encryption or smart contracts do not require a distributed ledger (i.e., blockchain) to be implemented.
Where is this confusion coming from?
Confusion around blockchain can be traced to the origin of the term. The term "blockchain" was introduced as shorthand for a "chain of blocks of transactions," which was part of the Bitcoin system. Therefore, in the Bitcoin context it meant a "distributed ledger of transactions." Later, "blockchain" became an independent term in media discussions of whether there are other uses for distributed ledgers of transactions beyond Bitcoin.
Since it started in 2009, the Bitcoin system, which operates without a trusted third party, has been successful in preventing fraud on its blockchain.10 That is, Bitcoin's blockchain has proved to be for all practical purposes "immutable." For this reason, it is often said to be secure. Bitcoin's blockchain is also public (all transactions are visible) and permissionless (any computer may participate in validating transactions and adding them to the ledger).
Some pundits erroneously extrapolate that any blockchain will have these properties: distributed, secure, public, permissionless and will operate without the need for a trusted third party. This extrapolation may come from an illusion that the Bitcoin's blockchain properties come solely from technology, while they actually come from a combination of technology and an incentive system that accounts for the behavior of human participants. Yes, the Bitcoin system uses cryptographic tools: public-private key encryption, hashing algorithms. But the system is virtually immutable11 because changing the blockchain's history is too costly.12
Bitcoin's blockchain has these properties because it is a part of the Bitcoin system. Other distributed systems may not be able to sustain these properties. This is because the Bitcoin system is much more than just the blockchain. The system also involves native cryptocurrency (bitcoins), mining and other elements. Changing the elements of the system, e.g., by removing the native cryptocurrency, or by changing the proof- of-work mechanism, affects the incentives of the participants and therefore may alter the properties of the distributed ledger that is supported by this modified system.
Smart contracts, encryption and distributed ledger each bring different benefits
Note also that smart contracts are not a core property of the Bitcoin blockchain. The Bitcoin system allowed for additional comments along with the transactions, which provided rudimentary capability to create code that would allow for automatic execution of some transactions. Ethereum expanded on this feature, introducing a blockchain with the main purpose of facilitating smart contracts.13 Mainstream media's use of the term "smart contracts" solely in the context of blockchain may have created the perception that smart contracts are native to blockchains. However, a code automatically executing a transaction can be implemented by a wide range of entities.
Therefore, smart contracts, encryption and distributed ledger are separate concepts. They may be implemented together, but do not need to be. The term "blockchain" should not be used as a catch- all aggregation of these different terms.
Why is it important to consider smart contracts, encryption and distributed ledger separately?
The broadening of the meaning of "blockchain" to include smart contracts, encryption and distributed ledger could simply reflect the evolution of a term in a living language. However, precision matters for estimating costs and benefits, or even for predicting the best uses of blockchain technologies. Smart contracts, encryption and distributed ledger each bring different benefits. And since they can be implemented independently, an optimal solution for a particular application may include only some of these tools but not others. This may matter for the future of the blockchain revolution.
Smart contracts are computer programs that automatically implement the terms of an agreement between parties. One example typically given is that of a car lease: upon a missed payment, the car would automatically lock and control would return to the lender. Since execution of a smart contract does not involve a decision or an action by a human, it may be faster and minimize the number of mistakes. Both the increased speed and reduction in errors would result in cost savings.
The term "smart contracts," and the car example, come from Nick Szabo's 1997 article,14 published 12 years before Bitcoin and its blockchain. Some media outlets state that "through blockchain technology, smart contracts are now a reality."15 However, smart contracts were a reality long before. An automated recurring payment that someone sets up with a bank is an example of a smart contract. Blockchain is not needed to gain the benefits from smart contracts, because smart contracts can be set up on a centralized system – a bank's system or a platform dedicated to smart contracts used by individuals.
Encryption, which increases the security of a computer system, may also result in significant cost savings.16 Currently, encryption is underutilized in business practice. For example, until recently public-private key encryption was typically used to log into a business's information technology system, but once users were admitted into the system, there was some, but little protection.17