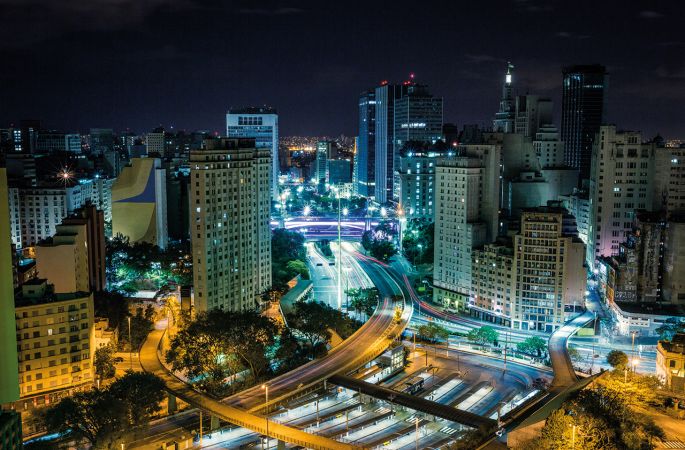 Furthermore, Johnson and Locke felt that connecting students and emerging market entrepreneurs would result in mutually beneficial learning, as the entrepreneurs would, through the students, have access to the broader burgeoning MIT entrepreneurial ecosystem. Over the past twenty years, G-Lab has worked with 482 companies, on approximately 643 projects in 54 countries. More than 2437 students have participated in G-Lab since its inception, significant given the size of the business school. Over this time, one of the key goals of the course has remained the same: Provide concrete, realistic, actionable recommendations to address a company's most significant business challenge.
G-Lab targets start-ups and fast-growing scale up companies in emerging markets as hosts in order for students to be able to connect with key decision makers during their project work. Most hosts are approximately five to seven years old, at a strategic or operational inflection point or poised for significant growth, looking to scale, have approximately $1 to $15M USD in revenue, and 5–8 people in senior management. Many G-Lab hosts are on the cutting edge of business trends, such as mobile apps, fintech, cryptocurrency, edtech, agribusiness, ride- hailing, and clean energy. Projects tend to fall into one of the following categories: New Market Entry, Strategic Growth, Fundraising/ Venture Capital, Marketing, Pricing, Financial Modeling or Human Resource. The diversity of company types and business challenges allows for a wide range of learning opportunities for MIT Sloan students, as well as for the faculty that support their project work.
Through this collaborative and highly interactive project engagement, entrepreneurs in emerging markets gain access to the most current and evidence-based scholarship via the students' research. The students provide their sponsoring entrepreneurial hosts access to MIT's extensive library resources, as well as faculty research. This makes the students' final deliverable- which is fully defined by the host- extraordinarily valuable. After almost a decade of tracking project outcomes, between 92 and 96 percent of host companies indicate they have implemented student recommendations or plan to do so within four to six months.
Through collaborative and highly interactive project engagement, entrepreneurs in emerging markets gain access to the most current and evidence-based scholarship via the students' research
The Structure of G-Lab
The experiential design of G-Lab means that the course is constantly evolving. Surveys of sponsoring host companies, students, participating faculty and other stakeholders contribute to a reassessment each year to understand what works and areas for improvement.
During the months before the course begins, students are asked about their expectations and learning objectives. This information assists the faculty in understanding how to best support the students when the course officially begins in September. Students are also supported in forming diverse teams of four, where different professional and personal experiences lead to stronger teams that are more equipped to tackle the ambiguity of project-based learning and provide deep insights during inevitable peer learning interactions.
Submitted host company questionnaires are viewed by students when classes begin. Faculty meet with each student team to offer guidance as they work to develop a list of projects they feel best meets their teams' interest and skill strengths. In mid-September, G-Lab faculty will review the host company questionnaires and student team application project request, to match host companies with the best qualified teams. At Sloan, student teams conduct research, interviews, and analysis, and connect with other MIT faculty not associated with G-Lab to assist with their project work. While strategic thinking and analysis is the foundation of G-Lab, teams are tasked to place a strong focus on creating tangible "leave-behinds" so host companies can put the team's concrete recommendations to work immediately. Teams deliver tools such as go-to-market roadmaps, financial models and spreadsheet templates, pitchbooks, HR manuals, potential customer or investor pipelines and screening filters, and M&A and valuation toolkits.
The Benefits and Challenges of Action Learning in Management Education
The perceived benefits of incorporating action learning instruction into management education curriculum extends to students, participating institutions, and the companies that work with the student teams. For the students, they have the opportunity to test their knowledge in a real-world situation. In addition, they develop leadership skills as issues of ethics, project management, negotiation and team building are prominent features of project work with external host companies, particularly where institutional structures that support businesses are emergent or under-developed. Working with an external host naturally lends itself to ambiguity; therefore, students must be self-directed, willing to learn through and with others, and focus on developing their problem definition and scoping skills in order to help the organizations with whom they are working move to action.
For participating companies, they are able to forge direct and indirect relationships with the university and participating faculty and learn the newest business practices. They have the opportunity to work with talented students who provide usable recommendations and other deliverables. Hosts also build a network of (or access to) potential employees or, as in the case of several of our former G-Lab hosts, invite former students to serve as company board members.
Through its design, G-Lab looks to place the student at the center of the learning process
The challenges presented by action learning adoption in management education tend to be linked to programmatic objectives, staffing, and sponsoring host company engagement.
Unlike traditional classroom lectures, using a project as a vehicle for learning can make articulating course learning objectives with specificity and intentionality difficult since faculty must work with the issues each unique project brings. Even finding the right faculty to work with students from managing the entire course to supporting specific teams, is subject to this uncertainty. It is working with the unknown, and by extension the work involved with developing new material in real time to meet students' needs, that makes faculty hesitant to take on this work. The traditional model for instruction in higher education is for the faculty to be the expert; having a course that asks faculty to be a vulnerable and engaged learner along with the students, is not a position that most want to take on.
Project work generates many variable projects, location, sponsoring host, team dynamics, faculty engagement which must balance many different interests and desired outcomes, which are not always aligned. Further complicating matters are the hurdles that emerge when faculty try to develop academic content in advance, since the progression of each project is situated in the real world, impacted by real world events. When working with entrepreneurs, this can be particularly challenging as their companies lack the stability and infrastructure to withstand even small shocks to their businesses.
Institutional resistance generally comes in the form of challenges to the resources needed to execute this type of program. Intense staffing demands and the high outcome variability, make some institutions resistant to offering this type of programming to their students. Many business schools may have a limited action learning initiative to minimize costs, while others have developed creative funding streams that charge host companies fees to cover overhead.
Most business schools identify resourcing projects as their biggest challenge. While many rely on word of mouth, alumni, previous sponsors, personal networks, and more recently, vendors that identify companies for schools, the real issue is not necessarily finding companies to participate but finding the right companies that will develop a project that meets the needs of the school, the course or initiative, and the student teams. In finding the right fit, business schools must find companies that understand the project is part of the students' learning; the students are, in fact, still students with many other demands on their time and attention. From the host company's perspective, the work with student teams can feel like a traditional consultancy engagement in terminology, design and expected impact. Students working on these types of projects take on a significant role as they are often welcomed into these companies as trusted partners and given access to confidential information.
They walk a fine line between one setting where they are fully known as a student; and in another, working closely with a company decision maker, expected to manage this relationship and make decisions regarding their work that can have a significant impact on the business. Faculty, students and host companies must resist the temptation to frame the project work experience as purely a consultancy engagement as this may marginalize the impetus of the course or initiative to support student learning.
Preparing Business School Students for the Future
Students come into these project-based learning course primed to advance their knowledge of key management tools and analytics. Learning is then focused on particular content areas (e.g., entrepreneurship) during the classroom component of the lab courses. Learning is amplified when students put their knowledge into action by taking on experiences working with organizations to solve real- world management challenges. Students reflect on their experience throughout the project process, gaining greater insight of management theory and practice as well as understanding their own leadership skills. In short, this approach to learning is integral to providing students with the theoretical and practical skills they need to be successful management and industry leaders.
While the traditional lecture and case study method can offer an opportunity to discuss and reflect on the practical application of management theory, MIT Sloan's Action Learning approach extends this idea to provide a forum for students to actively link their classroom learning and prior experience with the knowledge gained through their project.
What's Next?
We continue to evolve as we recognize the increase in complexity and ambiguity facing leaders in our business world. We continue to emphasize integrating knowledge between disciplines, faculties, theory and practice. Through its design, G-Lab looks to place students at the center of the learning process, to assist them in critically examining their insights, becoming more self-aware and enhancing their academic experience as they prepare for their professional life and a life of impact.